Abstract
Hydrodynamic models, just like weather forecast models, are especially powerful computer tools that can simulate and forecast water's movement and properties, such as water surface elevations, currents, salinity and temperature. They also provide crucial information on MHK energy resource characterization, MHK device design and siting, and potential environmental impact resulting from energy removal.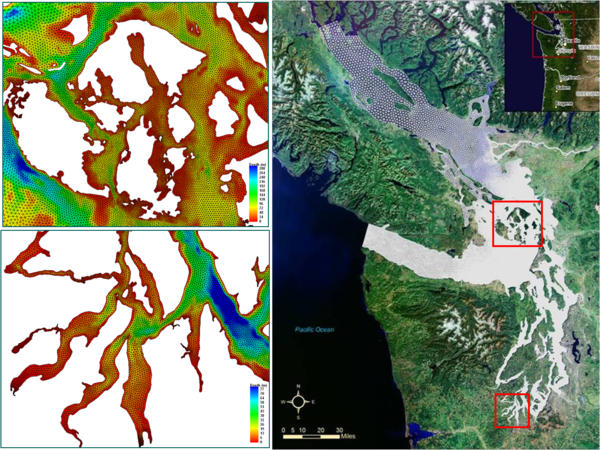 Hydrodynamic Modeling of Puget Sound
PNNL has developed a high-resolution hydrodynamic and transport model for the entire Puget Sound (Yang and Khangaonkar, 2010) based on the unstructured grid, Finite Volume Coastal Ocean Model (FVCOM, Chen et al., 2006).The model provides vital oceanographic information on water surface elevation, currents, salinity and temperature to the Puget Sound community. The unstructured model grid can be readily refined to address localized issues related to nearshore habitat restoration and effluent fate and transport (Yang and Khangaonkar, 2009; Yang et al., 2010 a, b; Wang et al., 2010; Khangaonkar and Yang, 2011; Yang et al., 2012). The model also has broad applications in assessing tidal energy resources throughout the Puget Sound.
Example Model Animations: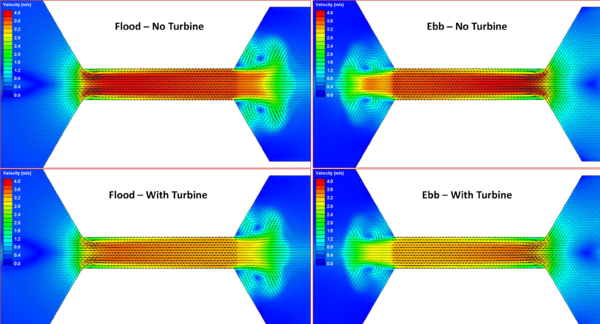 Hydrodynamic Modeling of MHK Energy
Clean, renewable MHK energy is coming, hydrodynamic models can help us plan for more efficient energy harnessing and reduce environmental impact before investigating in deployment. Specifically, hydrodynamic models with an embedded MHK module can help:
Characterize practically available energy resources in marine environments
Provide guidance information on device design and siting
Understand and predict potential physical and ecological impacts resulting from energy removal
In addition, the MHK model developed at PNNL has broad applicability and can be easily transferred to other waterbodies including rivers, estuaries and ocean currents. The PNNL-MHK model has been validated with an idealized estuarine system (Yang and Wang, 2011).
Model Applications:
Applications to Puget Sound
Impact of energy removal on estuarine hydrodynamics and water quality (and food chain?)