Description
A SonTek/YSI ADVOcean 5 MHz Acoustic Doppler Velocimeter (ADV) provides near-bed flow and turbulence data to support the analysis of predator and prey behaviour, and inform collision risk.
In 2012, the first deployment at the Fall of Warness tidal site (with 4 m/s spring tides), 20 m from the OpenHydro Test Turbine provided an initial dataset adjacent to a seabed structure representative of a MRED and verification of operation in the tidal site. This dataset was complemented by a 2013 deployment at a distance of 22 m from the Atlantis tripod base and piling. A third tidal site deployment in similar conditions but in an area free from devices provided a control.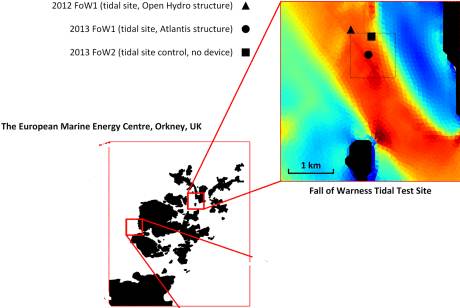 Frequency of Collection
Continuous over each fourteen day deployment (3 deployments) which covered the full spring-neap cycle.
Data Access Instructions
Contact Benjamin Williamson