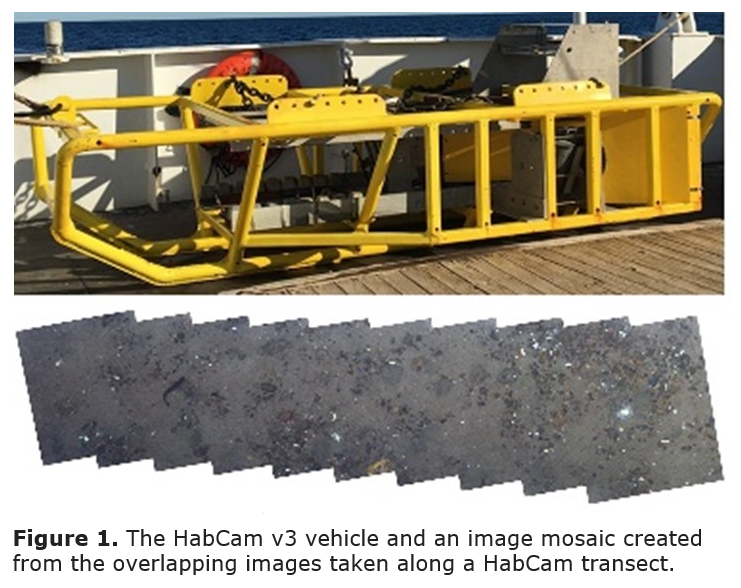 In support of the United States' goal to deploy 30 gigawatts of offshore wind energy by 2030, the Department of Energy Wind Energy Technologies Office recently announced $13.5 million for four projects that will provide critical environmental and wildlife data to aid offshore wind development. As part of this effort, Coonamessett Farm Foundation (CFF) has just started leading what will be a five-year research project that will support wildlife and fisheries monitoring efforts on the Atlantic Coast to ensure the protection of valuable resources as offshore wind development increases. The Bureau of Ocean Energy Management is also supporting the effort. 
CFF has partnered with highly experienced research groups at the University of Massachusetts Dartmouth School of Marine Science and Technology (SMAST) and Kitware, Inc. to survey commercial fish species and benthic habitats and communities in wind farm areas using state-of-the-art, non-lethal survey tools and methods. The team will conduct surveys before, during, and after wind farm construction to provide data on changes in commercial fish and marine invertebrate abundance and distribution, influenced by habitat changes and underwater noise emissions. Using multiple non-lethal optical survey methods, the project will provide a holistic view of the habitats and communities that may be impacted by offshore wind development.
The project will also develop a new framework for research and monitoring in wind lease areas using optical surveys that can run year-round and safely in the presence of protected species.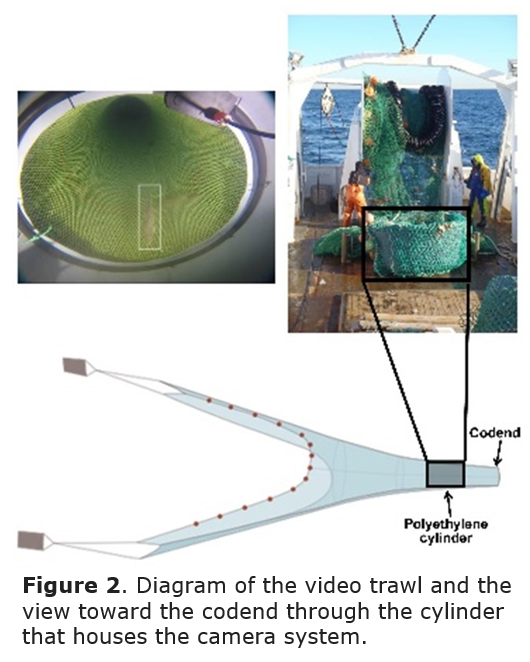 To conduct the surveys, the project team will use CFF's towed off-bottom optical survey vehicle, HabCam v3 (Figure 1), an open cod-end video trawl (Figure 2), and stationary camera systems. By combining a mix of well-established tools like the HabCam vehicle and new technologies like ropeless camera systems, the team will minimize risk to project overall success while advancing efforts to create new and innovative survey methods that can be used in wind energy lease areas after construction. The HabCam family of vehicles were designed to survey benthic habitat and collect data for sea scallop stock assessments. CFF will add front-facing sonar to the HabCam v3 vehicle to safely operate it around turbine bases. The Marine Fisheries Field Research Group at SMAST will conduct the video trawl surveys using a system that has been in development since 2013 (DeCelles et al. 2017). This effort will improve the video trawl net design to minimize turbidity during operations in areas with loose or silty sediment. The stationary camera surveys will be conducted using both traditional anchored camera systems and new systems based on ropeless lobster traps, and the survey design will incorporate a before-after-gradient design to more effectively assess wind farm impacts on focal species (Methratta 2020).
Using imagery from the optical surveys, the project team will then develop automated detectors for twenty-four fish and invertebrate species, in collaboration with the computer vision group at Kitware and creators of Video and Image Analytics for Marine Environments (VIAME). VIAME is an open-source platform that includes modular image processing algorithms for the analysis of still and video imagery without the need to write software. Detection models for common marine species including black sea bass, monkfish, Jonah crabs, sea scallops, and multiple species of squid, skate, hake, and flounder will be available in the VIAME toolkit by project end. The project team chose these focal species because of their economic importance to the region; combined landings in the study area for the twenty-four species exceeded 24 million pounds over the last twelve years, with $1.8 million in revenue in 2019 alone.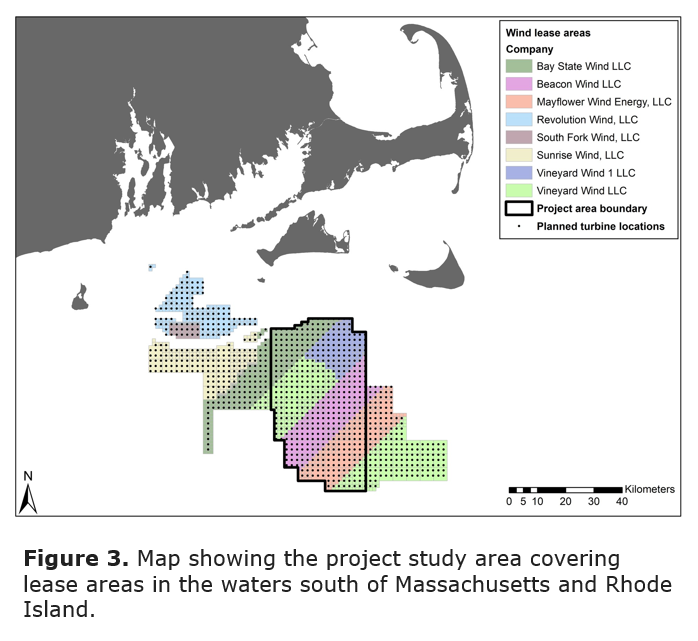 Throughout the five-year project, the team will conduct the surveys in the Southern New England wind lease areas off Massachusetts and Rhode Island, including the Bay State Wind, Beacon Wind, Liberty Wind, Mayflower Wind, and Vineyard Wind lease areas (Figure 3). Surveys will take place in the spring and fall, beginning in spring 2023 and continuing through fall 2026. CFF has already partnered with multiple commercial fishing companies to use their vessels for its research cruises and to ensure that the project has the support of this key stakeholder group. The project team will also host public webinars and participate in regional and national meetings focused on offshore wind to update other stakeholder groups, including federal and state agencies, the New England and Mid-Atlantic Fisheries Management Councils, and the offshore wind industry.
After five years, the team will have completed a methodological framework for monitoring commercial fish and invertebrate species in wind farms. This framework will include optical surveys, preferred survey designs, freely available automated detectors and image sets for training new machine learning algorithms, and design schematics for any new gear designs. The methodologies developed as a part of this project can be applied to monitor wind farms in other regions, leading to more consistent and environmentally friendly approaches for conducting fisheries-focused surveys of wind lease areas in the United States.
Literature Cited
DeCelles GR, Keiley EF, Lowery TM, Calabrese NM, Stokesbury KDE. 2017. Development of a video trawl survey system for New England groundfish. Transactions of the American Fisheries Society 146: 462-477.
Methratta ET. 2020. Monitoring fisheries resources at offshore wind farms: BACI vs. BAG designs. ICES Journal of Marine Science 77: 890-900.